Welcome to Learning at Home at Boddington District High School. This page has been created to support families and provide instructional learning activities for all students if they are unable to attend school. On this page, and the Parent Resources page, you will find information on how to support your child's learning at home, recommended activities to enhance learning and links to websites to make learning more interactive.
Our Year Level Learning at Home packages are the place for you to start when supporting your child to learn at home. These packages will be ready every Monday to start your child's learning for the week. A printed copy of your child's year level packages will also be made available to you.
If your child is experiencing difficulty with their learning pack you may like to look at the pack from another year level. You may also like to contact your child's classroom teacher via email or telephone. Your child's teacher will be emailing a video every day and will check you work as it is submitted via email or when learning packs are returned to the school.
Learning at home is a new situation for our school and for most families. We will be engaging in a cycle of continuous improvement and refinement and your feedback, and your child's feedback, about how the system is working will be important.
Suggested Routine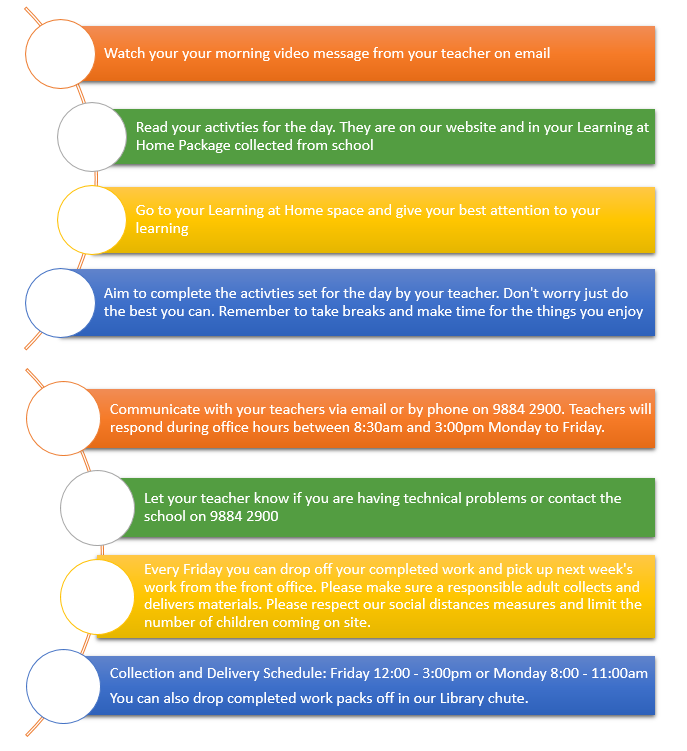 School Times
| | |
| --- | --- |
| School Commences | 8.50am |
| Recess | 10.50am |
| Lunch Bell | 12.40pm |
| Final Bell | 3.00pm |
Read more